September 20th, 2012 — 4:04pm
As a Cal Shaker, you're an insider—and we've got a truly "inside Cal Shakes" opportunity for you: Volunteer at Cal Shakes' Oct. 5 Student Discovery Matinee performance of Hamlet.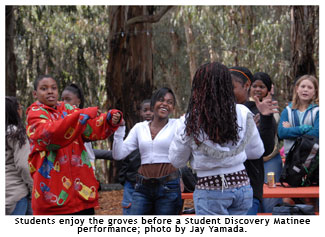 WHAT IS IT? Student Discovery matinees are special weekday performances specifically for school groups. Students travel from all over the Bay Area for a morning of educational activities; an 11am performance of the play; and a post-show Q&A with actors. Many students attending come from low-income, underserved schools, and experience this (free) field trip as a tremendously special adventure.
WHY AM I NEEDED? Volunteers serve a special breakfast to actors and technicians, who have a long two-show day; assist staff in organizing arriving school-groups; watch Teaching Artists lead kids in hands-on artistic learning exercises in our scenic eucalyptus groves; and help direct groups into the theater.
WHERE: Cal Shakes' Bruns Amphitheater, Orinda
WHEN: Friday, Oct 5, 2012
The day begins at 8:30am and winds down at 3pm; but you're free to leave at several different points throughout the day, as you need—read on for details.
DETAILS: There are four possible volunteer shifts. All begin at 8:30am with a quick orientation, and each ends at a different time.
1. SHORTEST SHIFT, 8:30–9:30am. Bring a contribution for the artists' breakfast—a hot casserole, precooked bacon, fruit salad—you name it, it will be appreciated. Stay just long enough to get a peek behind the Cal Shakes scenes and enjoy the artists' gratitude and delight in your culinary contribution.
2. SHORT SHIFT, 8:30–11am. Bring a contribution for breakfast. After meeting the artists, assist Cal Shakes staff in welcoming arriving students groups at the base of the Bruns Amphitheater slope; then escort students to groves; and subsequently into the theater. Be on your way just before 11am, as the performance begins.
3. THE PLAY'S THE THING SHIFT, 8:30am–12:45pm. Bring a contribution for breakfast (or don't—you'll still be welcome). Assist staff in shepherding students, and watch the first act of Hamlet. Slip out at intermission.
4. I'M ALL IN! SHIFT, 8:30am–3pm. Bring breakfast (or don't); assist kids; see the entire play; watch the amazing post-show dialogue between the actors and their young audience; and leave filled with joy. Seriously.
RSVP to shakers@calshakes.org. Please let us know how long you will stay, what you might bring for breakfast, and whether you're coming solo, bringing a friend, or riding in with a full posse. We can't wait to see you at the theater!
Category: Artistic Learning, Cal Shakers, Hamlet, Volunteers, Weekly News Comment »